Summertown Singers 2001-6
Jimena de la Frontera, Cadiz, Spain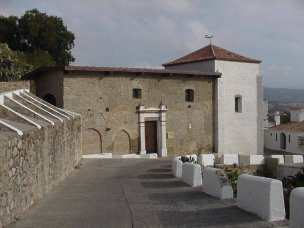 From 2001 to 2006, the choir travelled to the stunning hilltop pueblo blanco (white village) Jimena de la Frontera in Andalucia, Spain. In the summer of 2001, as well as the performance in Jimena, members sang Victoria's Mass "O Quam Gloriosum" as part of a service in Gibraltar Cathedral that was broadcast in Gibraltar, Morocco and Southern Spain. The long day closed with a short recital of English part-songs washed down by cocktails on the terrace of the famous "Rock Hotel" overlooking the Straits of Gibraltar. The following year we sang the Byrd four part mass, and in August 2003, "The Lamentations of Jeremiah" by Thomas Tallis was the centrepiece of a concert of sacred and secular music, performed to a packed audience in the beautiful Iglesia Misericordia above the town.
In 2004, the choir performed Stanford's "Songs of the Sea", celebrating the piratical life of the English fleet, and Captain Drake's famous encounter with the Spanish Armada, as well as motets by Spanish composers Morales and Victoria, and in 2005, the programme included movements of the Byrd 5-part mass.
Read the diary of one of the choir members for the 2004 trip.
Click here to see pictures of the 2005 choir trip to Jimena.