19 – 25 August
I first joined SCS in the autumn of 2008, when I was a third year undergraduate keen to experience a high standard of choral music and willing to leave the rarefied atmosphere of university societies to do so. It was well worth the leap! Having heard almost mythical references to Summertown Choral Society's choir holidays for four years, I had never plucked up the courage to join in – until now. As soon as we found out that this year's trip was to be to Barcelona, Jack and I started looking into flights and accommodation. However, I still had my reservations: would members of the Summertown Singers be interested in a shy youngster on her first trip?
I needn't have worried. We were thrown into the routine when we arrived at the first rehearsal in Sant Miquel del Port in Barceloneta on Monday morning with suitcases in tow, having come straight from the airport! After having a few hours to recover from the journey, we made our way back to Barceloneta to have drinks in the square with the rest of the 28-strong choir, during which I discovered that my worries about being able to get on with the others were completely unfounded – everyone was friendly, and with such a diverse and open group of people, we could always find something interesting to talk about, as I should have expected from my experiences of regular rehearsals.
We soon settled into the routine of daily morning rehearsals. Thanks to the SA/ATB/TB pieces, there were opportunities for bonding during strategic breaks in rehearsals, which I usually sacrificed in favour of singing in two different sections. The experience of being able to sing in both O Waly Waly and The Turtle Dove (with a spine-tingling solo from Roddy) was worth it though, and there was the daily post-rehearsal trip to the nearest café, where I could catch up with respect to both caffeine level and chat!
After a lunch of truly delicious bread from a Barcloneta bakery recommended by Duncan as the best in Barcelona, we spent our afternoons and evenings exploring the city. Particular highlights for Jack and me were the gothic quarter, especially the stunning cathedral and nearby Roman walls, and Barceloneta beach, at its best early in the morning before rehearsals. On our wanderings through the city – and especially during the calm moments spent sampling the food in the wonderful restaurants we found, I was glad that I had decided to come after all.
Of course, the climax of the trip, and the culmination of our work during those rehearsals, was the concert on Saturday evening. The visible sense of enjoyment from the audience who spontaneously applauded, together with the accommodating and hospitable Padre, made all our efforts worthwhile. The not infrequent ethereal moments during the performance made us appreciate the work we had put in over the week, listening to the other sections, keeping the pitch up, learning to phrase and generally improving our musicality.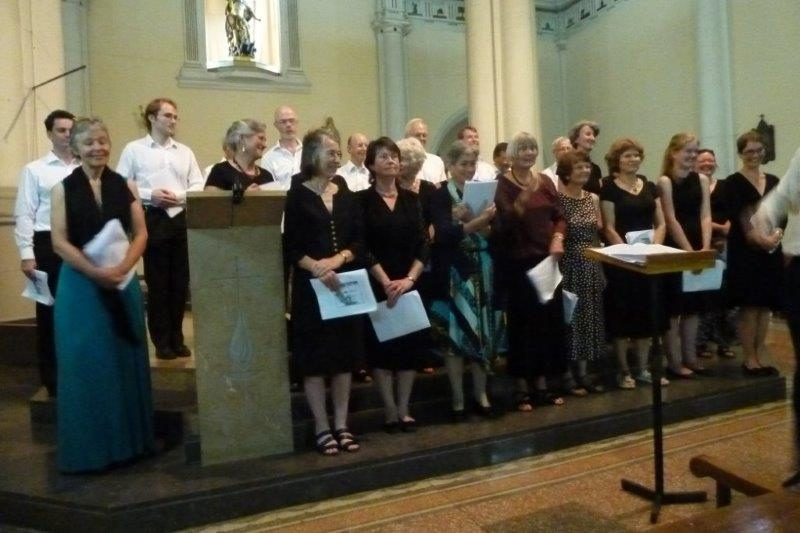 After the concert, there was a rooftop after-party – thanks to several members who had donated their terraces for the evening – and having all made a trip to Duncan's terrace for sherry during the week, I think we all felt we knew how to carry off a rooftop party properly. It was a relaxed, joyous occasion, ending with some singing of favourite partsongs. I think we all finished with a sense of achievement and contentment at having had a great trip, which produced excellent results in the form of our concert, and not least the wonderful memories of Barcelona, and the people who shared our experiences. I'm grateful to all the people who made it worthwhile: Duncan for his, as usual, excellent musical direction; all the choir members, including those who came just for this trip; and of course to Diane, for all her organisational work.
I look forward to joining in with more of these trips in the future, and this term I feel that I'll be one of those people I've always been so envious of, happily chatting to others whilst waiting for rehearsals to begin!
Emma Sadler