15 – 20 August
I'm just sitting down in my kitchen in Oxford (where it is 13℃ and drizzling!) to write about our incredible choir trip to Transylvania that was only last week
I'll take you back to the halcyon Thursday summer evening rehearsals in Iffley, kindly hosted by Diane always welcoming with snacks, a sharpened pencil and a glass of something very fitting. Our numbers in July were few but enthusiastic in challenging summer weather conditions; always being kept in line and conducted with verve by our very own Duncan Saunderson.
Three weeks later and by various means of train, campervan, bus or flights across Europe usually through Bucharest and the possibility of a 'fin- de- siècle' spa bath at the largest thermal spa bath in Europe Therme Bucharest, onwards to Braşov. Some of us saw Patrick Leigh Fermor's storks feeding on the Great Hungarian Plain, others took a trip to a hide to spot a brown bear family and others tackled European rail interchanges with great magnitude and fortitude.
Here, in Braşov in a warmer 28℃ and much cooler inside, rehearsals at St Bartolomeu (Biserica Sfântul Bartolomeu) church began in earnest with our very welcome additions from other choirs from Oxford, Reading and London. We were very lucky to have a wonderful coffee shop and homemade patisserie opposite at Romanian prices which was a real treat! The support was terrific as were the acoustics; our increased group filled the rafters with the poignant Ave Verum by the 17-year-old Francis Purcell Warren (also sung in Riga in 2018) and the Guerrero Four-part Mass. We were allowed to sing from the organ loft, our 'fixer' being the church organist for all of our sacred pieces, while the profane or secular pieces such as O' Waly, Waly and As Torrents in Summer were sung in the nave. The Romanian folk tune to "melt their hearts", was sung with a local guest tenor outside in front of a very appreciative audience while trestle tables were filled with glasses, fine wines and generous snacks. Our immediate offer to sing in a salt mine in Germany from a German academic must be looked into please, Duncan!
In Braşov, we found a family-run Moldovan restaurant that could cater for the whole choir for dinner. Traditional long tables notwithstanding and running through their Romanian wine cellar pretty fast, Fiona hosted perfectly, ensuring we moved seats between courses successfully especially when the desserts arrived. Many of us arranged transport to visit the fascinating fortified churches with their decidedly blasé approach to health and safety up and around tiny Wendeltreppe stone steps and roofed defences, famously in Viscri, Harman and Prejmer. Bran castle has a long and illustrious history, apart from the Bram Stoker influence, royals have been protected here for centuries before the Victorians created a little more drama.
On our final morning at The Black Church (Biserica Neagră), we were ushered into an ancient library room across the square for rehearsal and a beautiful speech and a delightful poem from Diane about Duncan's continued directorship of the choir, we were led by the organist up through a tiny arched doorway up the winding stone staircase to this other organ loft.
He turned out to be none other than the Hans Eckart Schlandt who has been cantor and organist at the 'Black Church' in Braşov (Kronstadt), Romania, since 1965. His early organ instruction was with Viktor Bickerich, who served as organist at the Black Church from 1922 to 1962.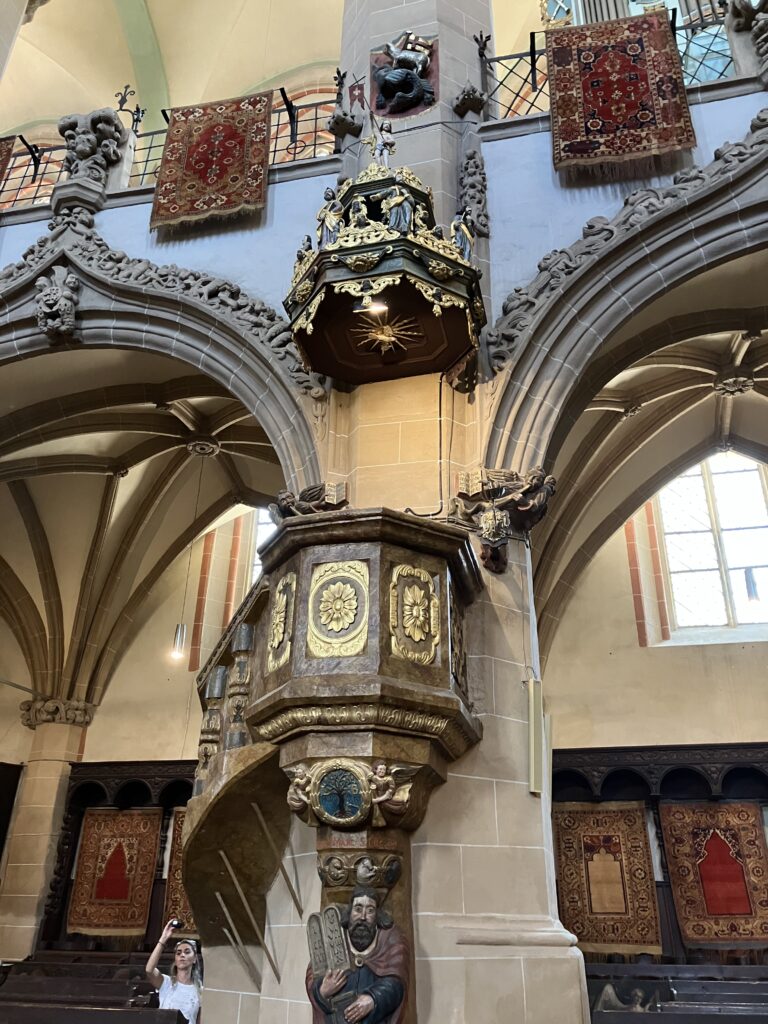 Since 1965, Schlandt took over the 'Bach' choir of the Black Church during the period of Communism which was averse to religious music. However, he managed to provide continuity and quality with the amazing great oratorios and passions of Bach, Mozart, Brahms, etc., to protect the Black Church from the totalitarian regime of the time, turning it into a musical haven of inner freedom. For several decades, Schlandt has pursued an active career as a performer and teacher, including concerts, radio and television broadcasts, CD recordings, and master classes. He has presented numerous recitals throughout Eastern and Western Europe, and an American tour. As Director of the summer concert series at the Black Church, it was he who kindly accompanied us in his organ loft.
As the whole service was in German including hymns and responses, I think we did ourselves and the congregation (who filmed everything) proud, by filling the church with The Cherubic Hymn by Bortniansky with its final Alleluia!
Thank you so much to everyone who contributed to such memorable rehearsals ending in such a wonderful trip and concert; and of course to our own conductor, Duncan, who always creates a memorable and atmospheric sound from our wonderful choir.
Anna Marshall