Saturday, 21st January 2006, 8pm
St Andrew's Church, Linton Road, North Oxford
Vivaldi Gloria
Handel Utrecht Te Deum
Britten Jubilate
J. S. Bach Lobet den Herrn
Ghislaine Morgan (soprano)
Sue Young (soprano)
Stephen Taylor (countertenor)
Ben Linton (tenor)
Tom Edwards (bass)
With Summertown Players
Antonio Vivaldi, "Il Prete Rosso" ("The Redhaired Priest") was one of the greatest Italian baroque composers and his "Gloria" written for a Venetian girls' orphanage is, alongside "The Four Seasons", one of his most popular works. He was a highly prolific composer. As well as a huge amount of vocal music and solo instrumental music, he wrote 230 violin concertos and 120 concertos for other instruments. He died a pauper in Vienna and it is only over the last 50 years or so that his music has become highly popular again although his joyful and immediately recognisable style and his use of scales and arpeggios has prompted comments such as Stravinsky's "….he had not written 100s of concertos but one concerto, repeated hundreds of times."
The German baroque giant Handel travelled extensively in Italy, the home of opera, oratorio, the concerto and the sonata and eventually settled in London where his operas were extremely popular. In 1713 he composed his magnificent Utrecht "Te Deum" and "Jubilate" for a service in St. Paul's Cathedral to celebrate the Peace of Utrecht, which had put an end to the War of the Spanish Succession. The style of the "Te Deum" is grand and opulent, much like his great Coronation Anthems written for Westminster Abbey.
Britten's "Jubilate Deo" in C was written in 1961 for St. George's Chapel, Windsor Castle at the request of H.R.H. The Duke of Edinburgh. It sparkles with the flair one would expect from the greatest British composer of the 20th century.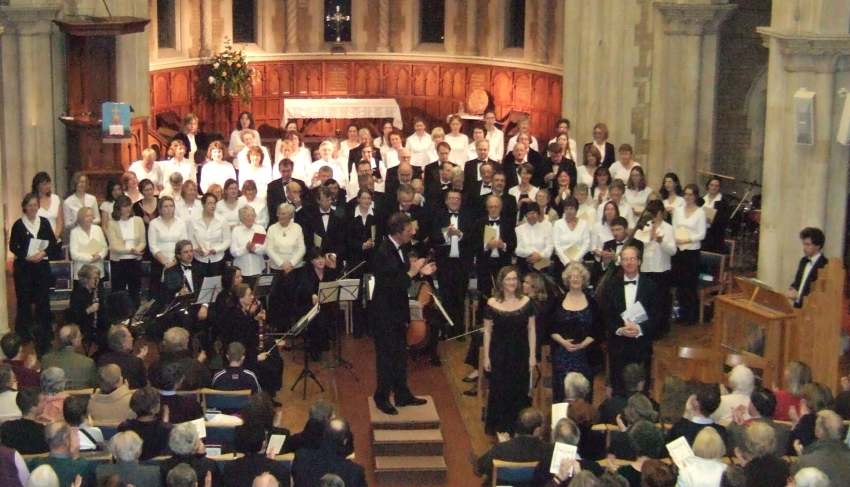 Concert Recording
A recording of this concert is available to choir members. To obtain a copy, ask any member of the committee or send your request via email to webmaster@summertownchoral.org.uk
Here are some samples from the CD.
Programme Notes
Vivaldi: Gloria
Antonio Vivaldi was born in Venice in 1648. He was ordained to the priesthood in 1703, but within a year took up a post teaching music at the Ospedale della Pietà, the most prestigious of four charitable institutions for orphaned girls in Venice. Apart from a break of two years from 1709 to 1711 he remained in this post until 1717, and then left Venice to work in several other cities in Italy including Rome, spending two years in Germany and Bohemia (1729-1731). During these years of travel and varied employment he maintained his links with Venice and the Ospedale della Pietà and, though he had a somewhat chequered relationship with its governors, they retained him as composer and Maestro de' Concerti from 1723 to 1740. In 1740 he moved to Vienna where he died in poverty in 1741.
Vivaldi was one of a number of Italian violinist-composers who were playing and writing for the new four-string violin family of instruments, which during the later 17 th and early 18 th centuries was replacing the more cumbersome six-stringed viol family. (At the same time, the instrument makers of Cremona, among them Stradivari and the Amati family, were perfecting the design and qualities of the new instruments.) Vivaldi's musical output was prodigious and the full corpus of his recognised works, which has come to light only during the last 60 years or so, now numbers well over 700. The great majority of these, some 600, are instrumental works for the new violin family: sonatas for individual instruments, sinfonias for string band, and concertos for solo instrument and string orchestra (for example TheFour Seasons). In many of them he added the contrasting tonal colour of a wind instrument, often oboe or trumpet.
Vivaldi's vocal works included operas, oratorios and sacred music in the form of masses, psalm settings, motets and cantatas. It is not known when he wrote this setting of the Gloria, but 1725 has been suggested. The work is in 12 movements, some only a few bars long, for soprano, alto, chorus, and string orchestra with the support of trumpet and oboe. The style and mood of the music are well suited to the text of each movement, joy and praise contrasting with solemnity and contemplation, perhaps most strikingly in the contemplative dialogue between alto and chorus in the Domine Deus which follows the joyful vigour of the chorus in the Domine Fili Unigenite.
Chorus   Gloria in excelsis       Chorus     Domine Fili Unigenite
Chorus   Et in terra pax         Alto, Chorus Domine Deus, Agnus Dei
Duet     Laudamus te          Chorus     Qui tollis peccata
Chorus   Gratias tibi agimus       Aria     Qui sedes ad dexteram
Chorus   Propter magnam gloriam   Chorus     Quoniam tu solus sanctus
Aria     Domine Deus         Chorus     Cum Sancto Spiritu
J S Bach: Motet 'Lobet den Herrn'
Johann Sebastian Bach was born in 1685 and from his early school days showed exceptional musical ability. His first appointment as organist and choirmaster, at Arnstadt, came in 1704 when he was not yet 20, and by 1708 his growing reputation as organist and composer had brought him a post at the ducal court at Weimar and in 1717 the position of kapellmeister to Prince Leopold of Anhalt-Cöthen. In 1723 he was appointed kantor of the Thomaskirche in Leipzig, a post which he held in spite of acrimonious disputes with the authorities and his colleagues until he died in 1750.
   To his contemporaries Bach was renowned more as organist and keyboard player than as composer. His death passed almost unnoticed, unlike that of Handel only nine years later, and it was not until the 19 th century that he came to be recognised as one of the great composers of choral, keyboard and instrumental works. During his years at Arnstadt he was already writing church cantatas (for solo voices and chorus) alongside works for clavier and organ. The new Italian music and the development of the concerto as a musical form was attracting attention among German patrons and musicians, and Bach arranged 16 of Vivaldi's violin concertos for clavier and three for organ. Much of his instrumental music was written while he was at Cöthen, including some of the best known such as the Brandenburg Concertos (1721) and the 48 preludes and fugues of the Well-tempered Clavier (1722). His great choral works, the St Matthew Passion (1729) and the B Minor Mass (from 1733 on), and some 300 church cantatas (though only 200 or so survive) came during his tenure at the Thomaskirche.
   Bach wrote six motets (works for chorus only). It is not known when he wrote them, but five were not published until 1803 and the sixth Lobet den Herrn only in 1821. It has been said that he composed for instruments rather than for voices. The long flowing musical lines and fugal structure of much of his writing, including this motet, sit more easily with instruments than with voices and certainly suggest this. The motet, in which the chorus is supported by organ and cello continuo, is in three parts. The first flows busily and steadily without a break into the more stately second part, in which each voice in turn holds a long note through several bars as the other voices move against it. After a short pause comes the final joyful Alleluia. The text is from Psalm 117, and we sing in German.
Lobet den Herrn, alle Heiden;     Praise the Lord, all ye nations;
Preiset ihn, alle Völker;         Praise Him, all ye people;
Denn Seine Gnade und Wahrheit     For His grace and mercy
waltet über uns in Ewigkeit.       watch over us for ever.
   Alleluia                 Alleluia
Handel: 'Utrecht' Te Deum
George Frederic Handel was born in 1685 at Halle near Leipzig, and from an early age his main interest was music. In 1702, when he was 17, he was appointed organist at Halle Cathedral and in the following year joined the orchestra of the Hamburg opera. Both here and at Halle he came under the influence, as did J S Bach, of the new Italian style of music whose popularity had been spreading steadily through northern Europe during the late 17 th century, and in 1706 he moved to Italy where he built up a considerable reputation as a keyboard player and composer of Italian opera.
   In 1710 Handel returned to Germany and was appointed to a post at the court of the Elector of Hanover, who in 1714 was to become King of England as George I. He made frequent visits to London, and in 1713 he moved there and began to establish himself on the musical scene under the patronage of some of the leading families. In 1720 he accepted a commission from the newly founded Royal Academy of Music 'to secure a constant supply of operas by Handel to be performed under his direction', a commission he fulfilled through the production of Italian operas. But the RoyalAcademy closed in 1728 and musical fashion began to tire of the Italian style. Handel remained a popular composer of church music, especially for state occasions, but repeated artistic and financial failures, aggravated by illness, forced him to abandon Italian opera and turn to oratorio. It was these, in particular but not only the Messiah, which were the basis of his popularity and fame as a composer during his lifetime. He died in 1759.
   In 1713 Britain, France and Spain signed the Treaty of Utrecht bringing to an end the War of the Spanish Succession, and Handel wrote this Te Deum and a Jubilate for the Thanksgiving service in St Paul's Cathedral. It is scored for soprano, alto, tenor and bass soloists, chorus, organ and orchestra, and is in nine movements of varying length, five for soloists and chorus and four for chorus alone. The affinity with the vivacious Italian style of Vivaldi's Gloria and the contrast with flowing lines of the Bach Motet are abundantly clear from the opening bars.
1 We praise thee, O God           6 Day by day we magnify thee
2 To thee all angels cry aloud         7 And we worship they name
3 The glorious company of the Apostles      8 Vouchsafe, O Lord
4 When thou took'st upon thee         9 O Lord, in thee have I trusted
5 We believe that thou shalt come
Britten: Jubilate Deo
The last work in this evening's programme provides a striking contrast to the other three: a work written by an English composer over 200 years later, when English composers had re-established themselves on the European musical scene after a long eclipse since the pre-eminence of Purcell at the end of the 17 th century. Benjamin Britten was born in 1913 and, apart from the years 1939 to 1942 when he was in the United States, spent all his life in England. He died in 1976. Much of his work is vocal and choral, though his most widely known piece is probably the instrumental work Variations and Fugue on a Theme of Purcell – The Young Person's Guide to the Orchestra. His two best known operas, Peter Grimes and Billy Budd, are on a grand scale, likewise the War Requiem composed for the consecration in 1962 of Coventry Cathedral re-built amid the devastation wrought by German bombing in November 1940. But much of his writing is on a smaller, simpler scale such as his chamber operas, which are scored for a band of 12 players, and his children's operas such as Noye's Fludde (1958).
   A good example of Britten's simpler writing is this Jubilate, a short anthem written in 1961at the request of the Duke of Edinburgh for St George's Chapel, Windsor, for four-part chorus and organ. Lively and tuneful sections contrast with quiet yet intense passages. Although it was written 250 years after Handel's 'Utrecht' Te Deum, the musical style of the two anthems would sit together easily, if unconventionally, in the liturgy of the Anglican prayer-book service of Matins.
Clive Williams
Translation of Vivaldi Gloria (RV589)
The words of Vivaldi's Gloria are an expanded version of the Gloria which forms part of the usual setting of the Mass. Sections 3, 6 and 10 are sung by the soloists alone; the other sections are sung by the choir / by the choir and soloists.
1. Gloria
Gloria in excelsis deo
Glory to God in the highest
2. Et in terra
Et in terra pax hominibus
And on earth peace to people
Bonae voluntatis
Of good will
3. Laudamus te
Laudamus te,              benedicimus te,
We praise thee,          we bless thee,
Adoramus te,               glorificamus te.
We worship thee,       we glorify thee.
4. Gratias agimus
Gratias agimus tibi
We thank thee
5. Propter magnam
Propter magnam gloriam tuam,.
For thy great glory,
6. Domine Deus
Domine Deus,             rex coelestis,
Lord God,                      Heavenly King,
Deus pater omnipotens,
Almighty God and Father,
7. Domine Fili unigenite
Domine fili unigenite Jesu Christe,
Lord Jesus Christ the only-begotten Son
8. Domine Deus, Agnus Dei
Domine Deus,       agnus Dei,         filius patris,
Lord God,               Lamb of God,    Son of the Father,
Qui tollis peccata mundi,
Who takest away the sins of the world,
Miserere nobis.
Have pity on us.
9. Qui tollis
Qui tollis peccata mundi,
Thou who takest away the sins of the world,
Suscipe deprecationem nostram
Hear our prayer.
10. Qui sedes
Qui sedes ad dexteram patris,
Thou who sittest on the right hand of the Father,
Miserere nobis.
Have pity upon us.
11. Quoniam tu solus
Quoniam tu solus sanctus,                    Tu solus Dominus,
For thou alone art holy,                          Thou alone art the Lord,
Tu solus altissimus,                                 Jesu Christe,
Thou alone art the Highest,                  Jesus Christ,
12. Cum sancto spiritu
Cum sancto spiritu,                       in gloria Dei patris,
With the Holy Spirit,                     in the glory of God the Father,
Amen.
Translation by Valerie Worth (October 2005)