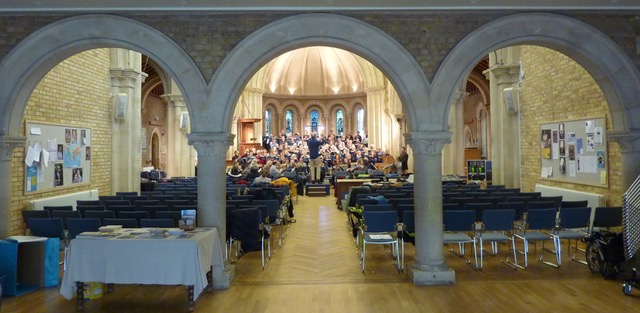 Next Rehearsal
Our next rehearsal is on Thursday, 2 December 2021, 8-9.30pm. We will be rehearsing:
All the choruses from Part Two (except for Let all the angels of God worship him and Their sound is gone out).
(All the Messiah files are available for practice purposes on our John Fletcher webpage.)
Special rehearsal on December 16:
Christmas choruses from Messiah and a selection of Christmas carols, followed by a drink.
This rehearsal is open to singing friends of current members of the choir as well as to anyone on our Choir Mailing List. A chance for friends to sing the Hallelujah Chorus (among others) with a large choir!
The full list is:
And the glory of the Lord p.11
And he shall purify p.35
For into us a child is born p.55
Glory to God p.68
Hallelujah p.171

The carols, chosen from volume 1 of OUP's Carols for Choirs, are:
Away in a manger p.2
Hark! the herald angels sing p.39
In dulci jubilo p.42
O come, all ye faithful p.88
O little town of Bethlehem p.92
Once in royal David's city p.100
We are using the New Novello Choral Edition (edited by Watkins Shaw) for Messiah. Scores will be provided for that and the Carols for Choirs for those without.
~~~~~~~~~~~~~~~~~~~~~~~~~~~~~~~~~~~~~~~~~~~~~~~~~~~~~~~~~~~~~~~~~~~~~~~~~~~~~~~~~~~~~~~~~~~~~~~~~~~~~~~~~~~~~
Below are lists of music we rehearsed over the previous two terms, via Zoom.

(Click on the titles of the pieces to go to a pdf of the music.)
~~~~~~~~~~~~~~~~~~~~~~~~~~~~~~~~~~~~~~~~~~~~~~~~~~~~~~~~~~~~~~~~~~~~~~~~~~~~~~~~~~~~~~~~~~~~~~~~~~~~~~~~~~~~~
This is the top 20 list of the Choir's choice of music for the summer term that finished in June 2021, in order of preference chosen by the members:
In addition Duncan's choices were Monteverdi Vespers Sicut erat in principio from the Magnificat, and Purcell I was glad.
Julian's choice was the Kyrie from Mozart's C Minor Mass.

Verdi, Va pensiero (Nabucco)
Bach, Lobet den Herrn
Bach, Ruht wohl (St John Passion)
Vivaldi, Gloria (Gloria) (pp.1-7 of the link)
Mozart, Ave verum corpus
Handel, My heart is inditing (Coronation Anthems)
Bruckner, Locus iste
Haydn, The Heavens are telling (Creation)
Mozart, Laudate Dominum
Handel, The King shall rejoice (Coronation Anthems)
Fauré, Cantique de Jean Racine
Dvorak, Songs of Nature
Ives, Sweet nightingale (Three Folksongs)
Monteverdi, Ave maris stella (Vespers)
Purcell, With drooping wings (Dido and Aeneas)
Handel, Hallelujah chorus (Messiah)
Bach, Jauchzet, frohlocket (Christmas Oratorio, part 1)
Handel, Zadok the priest (Coronation Anthems)
Ives, Songs of Ariel
Parry, I was glad
Berlioz, Shepherds' farewell (L'Enfance du Christ)
Parry There rolls the deep
Byrd Agnus Dei
Marenzio Hodie Maria virgo

~~~~~~~~~~~~~~~~~~~~~~~~~~~~~~~~~~~~~~~~~~~~~~~~~~~~~~~~~~~~~~~~~~~~~~~~~~~~~~~~~~~~~~~~~~~~~~~~~~~~~~~~~~~~~
Below is a list of pieces we sang in the Autumn term 2020-21:

Brahms Requiem
Bach O Jesu Christ, mein's Lebens Licht
Bach Wachet Auf (first movement)
Bach Wachet Auf (Chorale)
Reger Ich liege und schlafe (pp.6-7)
Rheinberger Abendlied
Clara Schumann Abendfeier in Venedig
~~~~~~~~~~~~~~~~~~~~~~~~~~~~~~~~~~~~~~~~~~~~~~~~~~~~~~~~~~~~~~~~~~~~~~~~~~~~~~~~~~~~~~~~~~~~~~~~~~~~~~~~~~~~~