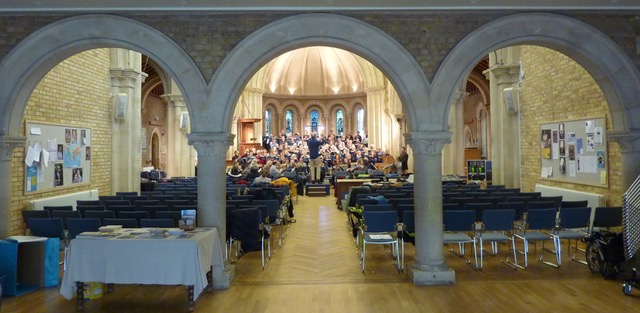 Next Rehearsal
A message from Duncan about next week's rehearsal, Thursday 19 May, at St Andrew's:
14 May 2022

Please prepare all of the music for St. Andrew's next Thursday.
It would be good just to sing each movement once on Saturday afternoon, and some 'top and tailing', so coming prepared is crucial.
Very Italianate Latin (bright vowels), careful with consonants and ending phrases together so no voices are hanging on. 
Please predict where a phrase might go flat: e.g. soft singing at the end of a phrase and repeated notes.
For the audience, heads up please, especially in 'solo' entries.
It was sounding lovely last week!

A few 'stand and sits':

Saint-Saëns
Sit after the last chord of Rex Tremendae.
Stand at figure B of Oro Supplex.
Sit after the last chord of Benedictus.
Stand at bar 62 of the Agnus Dei.

Gounod
Sit for the Offertory. I can direct this.

Best wishes,
Duncan
Also available here is a translation of the French text we are singing, as well as all the Latin texts, with some notes. These have been kindly provided by Valerie Worth (soprano), who has also written, with embellishments from Julian, the full notes for our concert programme.
~~~~~~~~~~~~~~~~~~~~~~~~~~~~~~~~~~~~~~~~~~~~~~~~~~~~~~~~~~~~~~~~~~~~~~~~~~~~~~~~~~~~~~~~~~~~~~~~~~~~~~~~~~~~~~~~~~~~~~~~~~~~~~
6 May 2022

Dear SCS Member,

An excellent sound last night! The music is taking shape beautifully. Some of the words are a little muddy (very small print) especially in the Saint-Saëns Requiem Dies Irae and Hostias, so reading through will make it a much easier sing.
Let's try to perfect our French in the Fauré Cantique.
Next Thursday we'll try to cover as much as possible and starting with:
Saint-Saëns – Oro Supplex, Sanctus, Benedictus and Agnus Dei
Gounod – Sanctus, Benedictus and Agnus Dei
Vierne – Kyrie and Gloria 
Duncan
See below for recordings recommended by Duncan.
~~~~~~~~~~~~~~~~~~~~~~~~~~~~~~~~~~~~~~~~~~~~~~~~~~~~~~~~~~~~~~~~~~~~~~~~~~~~~~~~~~~~~~~~~~~~~~~~~~~~~~~~~~~~~~~~~~~~~~~~
Duncan wrote on 16 April:
Dear All,

Happy Easter to you all!

Just 5 Thursday rehearsals until the concert on the 21 May. Next Thursday we'll be covering as much of the Saint-Saëns, Gounod and Fauré as possible.
To speed us through the rehearsal, please take a listen:

Saint-Saëns
https://m.youtube.com/watch?v=CDJH5K58ID0

Gounod
https://m.youtube.com/watch?v=9LcTvoG4Tr4

Fauré
https://m.youtube.com/watch?v=ITjvsz0DtP8
~~~~~~~~~~~~~~~~~~~~~~~~~~~~~~~~~~~~~~~~~~~~~~~~~~~~~~~~~~~~~~~~~~~~~~~~~~~~~~~~~~~~~~~~~~~~~~~~~~~~~~~~~~~~~
PREVIOUS TERMS
Below are lists of music we rehearsed via Zoom during the pandemic. (We began live rehearsals again in September 2021.)
(Click on the titles of any piece below to go to a pdf of the music.)
Summer term 2021
This is the top 20 list of the Choir's choice of music for the summer term that finished in June 2021, in order of preference chosen by the members:
In addition Duncan's choices were Monteverdi Vespers Sicut erat in principio from the Magnificat, and Purcell I was glad.
Julian's choice was the Kyrie from Mozart's C Minor Mass.

Verdi, Va pensiero (Nabucco)
Bach, Lobet den Herrn
Bach, Ruht wohl (St John Passion)
Vivaldi, Gloria (Gloria) (pp.1-7 of the link)
Mozart, Ave verum corpus
Handel, My heart is inditing (Coronation Anthems)
Bruckner, Locus iste
Haydn, The Heavens are telling (Creation)
Mozart, Laudate Dominum
Handel, The King shall rejoice (Coronation Anthems)
Fauré, Cantique de Jean Racine
Dvorak, Songs of Nature
Ives, Sweet nightingale (Three Folksongs)
Monteverdi, Ave maris stella (Vespers)
Purcell, With drooping wings (Dido and Aeneas)
Handel, Hallelujah chorus (Messiah)
Bach, Jauchzet, frohlocket (Christmas Oratorio, part 1)
Handel, Zadok the priest (Coronation Anthems)
Ives, Songs of Ariel
Parry, I was glad
Berlioz, Shepherds' farewell (L'Enfance du Christ)
Parry There rolls the deep
Byrd Agnus Dei
Marenzio Hodie Maria virgo

~~~~~~~~~~~~~~~~~~~~~~~~~~~~~~~~~~~~~~~~~~~~~~~~~~~~~~~~~~~~~~~~~~~~~~~~~~~~~~~~~~~~~~~~~~~~~~~~~~~~~~~~~~~~~
Autumn term 2020-21

Brahms Requiem
Bach O Jesu Christ, mein's Lebens Licht
Bach Wachet Auf (first movement)
Bach Wachet Auf (Chorale)
Reger Ich liege und schlafe (pp.6-7)
Rheinberger Abendlied
Clara Schumann Abendfeier in Venedig
~~~~~~~~~~~~~~~~~~~~~~~~~~~~~~~~~~~~~~~~~~~~~~~~~~~~~~~~~~~~~~~~~~~~~~~~~~~~~~~~~~~~~~~~~~~~~~~~~~~~~~~~~~~~~