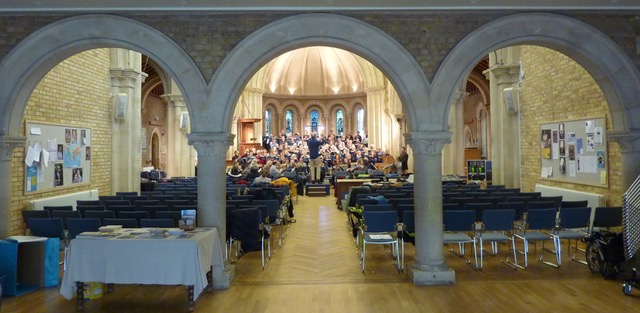 Our next rehearsal is on Thursday 3 December 2020, 8.20-9.20pm, when we will be rehearsing:
Vaccaj Lesson 8 The Suspension (Long Appogiatura) from Below and Above, Senza l'amabile…
Reger Ach, Herr, strafe mich nicht (click the title for the music) the chorale only, bars 93-110. You can hear the chorale here. We are singing it SAATB, that is, Altos should split between the second and third lines.
Bach Wachet Auf, the whole of the first movement.
Brahms Requiem Movement 6.
~~~~~~~~~~~~~~~~~~~~~~~~~~~~~~~~~~~~~~~~~~~~~~~~~~~~~~~~~~~~~~~~~~~~~~~~~~~~~~~~~~~~~~~~~~~~~~~~~~~~~~~~~~~~~
Abendfeier in Venedig
Clara Schumann
Translation from the German (by Sue Palmer):
Vespers in Venice
Verse 1:
Ave Maria! Sea and heaven are resting,
From every tower the sound of bells rings out.
Ave Maria! Desist from earthly endeavours,
Pray to the Virgin Mary and to the Virgin's son.
Even the heavenly hosts now kneel before the Father's throne with lily stems,
And through the clouds of roses the songs of blessed spirits drift solemnly down to earth.

Verse 2:
O holy reverence which pierces every heart so wondrously with quiet dread,
O blessed faith which soars towards heaven on the white wings of prayer,
Pain dissolves into gentle tears while joyous exultation rings out more softly.
Ave Maria! Heaven and earth appear lovingly to unite at this sound.
Word for word translation (i.e. following the German word order):
Ave Maria! Meer und Himmel ruh'n,
Ave Maria! Sea and heaven rest,
Von allen Türmen hallt der Glocken Ton.
From all towers echoes the bells' sound.
Ave Maria! Lasst vom irdischen Tun,
Ave Maria! Leave off from earthly doings,
Zur Jungfrau betet, zu der Jungfrau Sohn.
To the Virgin pray, to the Virgin's Son.
Des Himmels Scharen selber knien nun mit Lilienstäben vor des Vaters Thron,
Of Heaven the hosts themselves kneel now with lily stems before the Father's throne,
Und durch die Rosenwolken wehn die Lieder der sel'gen Geister hernieder.
And through the rose clouds flutter the songs of the blessed spirits downwards.
O heilige Andacht,
O holy reverence,
Welche jedes Herz mit leisen Schaudern wunderbar durchdringt!
Which every heart with quiet dread wonderfully penetrates!
O sel'ger Glaube,
O blessed faith,
Der sich himmelwärts auf des Gebetes weißem Fittich schwingt!
Which heavenwards on prayer's white wing soars!
In milde Tränen löst sich da der Schmerz,
Into soft tears dissolves here the pain,
Indes der Freude Jubel sanfter klingt.
While the joyous exultation softer sounds.
Ave Maria! Erd und Himmel scheinen bei diesem Laut sich liebend zu vereinen.
Ave Maria! Earth and Heaven seem at this sound lovingly to unite.
On Thursday 29 October 2020, we will be rehearsing:
Vaccaj Lesson 5, Half-steps Delira dubiosa…
Bach Wachtet Auf Chorale
Brahms Requiem Movements 3 and 4
Duncan has also chosen a short piece by Clara Schumann, who, as is well known, was very close to Brahms: Abendfeier in Venedig. Hear it here. The score is here.

~~~~~~~~~~~~~~~~~~~~~~~~~~~~~~~~~~~~~~~~~~~~~~~~~~~~~~~~~~~~~~~~~~~~~~~~~~~~~~~~~~~~~~~~~~~~~~~~~~~~~~~~~~~~~
19 September 2020 (for Thursday 24 September)

Dear SCS member,

The second movement of the Brahms Requiem can be overwhelming at the best of times, but especially on Zoom! The idea was to get a feel for the different sections in context and of course we'll look at much smaller sections slowly next week onwards.

Next Thursday we'll concentrate on bars 74-123 (figures C-G) in the second movement, the Brahms first movement and Abendlied.
From the Vaccaj exercises, lesson 2, skips of fourths (p.9 of the pdf).

It would be wonderful to sing some Bach! O Jesu Christ, mein's Lebens Licht, BWV 118 must be some of the most calming and beautiful music he ever wrote. Click here to take a listen.

Here is a link to the sheet music.

Best wishes,
Duncan