This year it was decided that the Summertown Singers would break away from the usual haunts of Western Europe and instead pay a visit to the Baltic state of Latvia, a first for the choir. After writing to several possible destinations, arrangements were eventually put in place for the group to give a lunchtime concert on Wednesday August 15th in the Anglican Church, St. Saviour's, in the Latvian capital, Riga. Lying close to the centre of the historic old town, this neo-Gothic church was built in the late 1850s. It ceased to be used for worship during the post-war Soviet occupation, but was re-established as an active church in 1991, following Latvian independence.
About 20 members of the main Summertown Choral Society needed little encouragement to join the group, and another half a dozen or so keen singers travelled from elsewhere in Europe to join them, so together with a few non-singing partners we were around 30 in number. As is usual for these trips, it was up to individuals to make their own travel and accommodation arrangements. Some rented apartments, and some – less adventurously – booked hotels. My wife, Sue, and I stayed in a nice hotel near Vecriga (Old Riga), which unfortunately was fairly expensive as we had booked very late. Sensible people had also booked their air travel months in advance – the right way to do it – so had relatively cheap tickets, whereas we once again paid the price (literally) for leaving it to the last minute. A lesson learnt for next year!
Most people took advantage of being in a beautiful old historic city to enjoy some sightseeing, as there was ample time outside the rehearsal periods. Sue and I visited many of Riga's fine churches and cathedrals (there are three), as well as taking a relaxing circular tour by small boat along the Daugava River and Pilsetas kanals (City Canal), which runs through the old town. We spent an entire morning in the vast Riga Central Market, built in the 1920s, which is the largest in Europe and is on the UNESCO World Heritage Site list. Yet another historic landmark building we visited was the House of the Blackheads, dating from 1334, and there were many, many more in this fascinating city, which has seen so many changes since its founding in 1201.
The Music
Duncan had once again assembled an eclectic set of music for the concert, almost all of which was available as copyright-free web downloads. The most substantial work was a mass by the Spanish Renaissance composer Cristóbal de Morales, Missa Quaeramus cum pastoribus, although we omitted some of the movements to keep it to a manageable length. There was also a delightful Ave Verum by the English composer and friend of Herbert Howells, Francis Purcell Warren, who was tragically killed at the Battle of the Somme in 1916, aged only 21. Another English composer, Sir Edward C. Bairstow, organist and Master of music at York Minster in the first half of the 20th century, gave us the anthem Jesu, the very thought of Thee.
A lighter note was struck by a lively set of folk-songs by the Budapest-born Mátyás (György) Seiber (1905-1960), Three Hungarian Folk-Songs. We had performed them the previous year in Rioja, and they were great fun to sing (but the lyrics were perhaps a little strong in places!). An even more fanciful theme could be heard in The Thirsty Vampires, by the 18th century English composer and organist at Magdalen College, Oxford, William Hayes. This amusing canon, albeit with somewhat gruesome words, was sung by the men alone. Another men-only folk-song – this time English, by Ralph Vaughan Williams – was the well-known The Turtle Dove.
As a courtesy to our hosts, Duncan had found a beautiful Pater noster dating from 1991 by a contemporary Latvian composer, Peteris Vasks. Relatively short, this was a very peaceful meditation which we found very engaging to sing. As composition of sacred choral music was strongly discouraged during the Soviet occupation, Vasks concentrated his efforts into writing instrumental music, but he finally wrote his Pater noster after Latvian independence, encouraged by his Protestant minister father.
The last three works on our programme were by those two great late 19th century composers, Hubert Parry and Charles Stanford. Duncan had chosen two of Parry's four-part songs, O Love, they wrong thee much and Come, pretty wag, and sing, and a short, but very moving, four-part song by Stanford, Heraclitus.
Rehearsals
As much of the music that Duncan had selected was new to most of us, before travelling to Riga half a dozen rehearsals were arranged in Oxford, kindly hosted in turn by three of the local singers. Holding the rehearsals mainly on Thursday evenings ensured reasonable attendances, helped along by the après-singing wine and nibbles in the gardens.
By the time we departed for Riga the notes had largely been learnt, but more work was needed for a polished a cappella performance at the forthcoming concert. So further morning or evening rehearsals were arranged in St Saviour's Church, although for the few early arrivers there was a first rehearsal in Duncan's apartment – or cave as he termed it, being below ground level and low-ceilinged! The final rehearsal was in St Saviour's Church on the morning of the performance, followed by the concert itself at 13:00.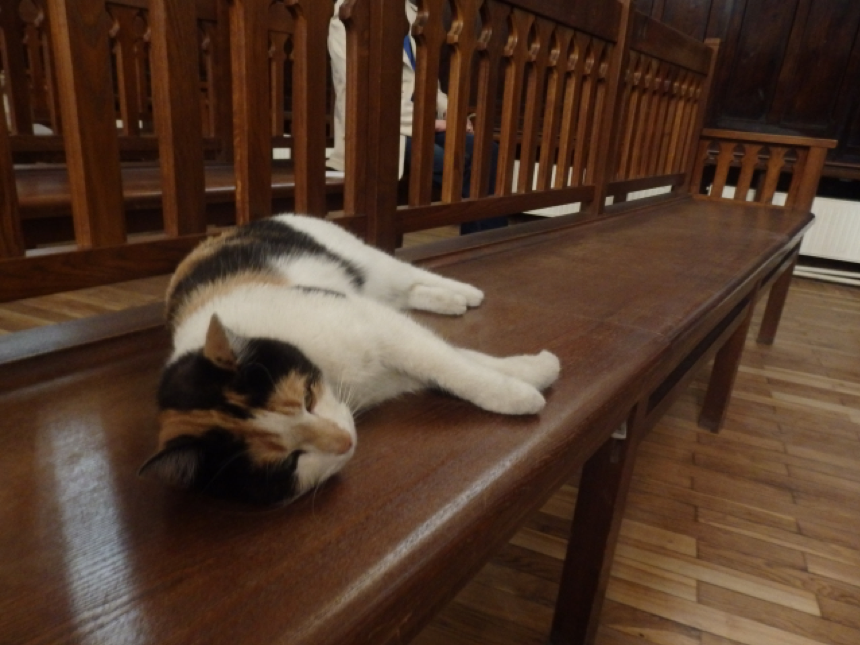 The concert
Our concert was one of the regular series of lunchtime concerts held in St Saviour's Church on Wednesdays, and we shared the billing with an English organist, David Knight, from Taunton. We performed our music in three sections, interspersed with three short organ recitals by David, which allowed us a welcome rest at the back of the church.
Fortunately, the church is not very large, so our audience of about 50-60 listeners seemed a respectable size, and they were certainly very appreciative of our performance, and we were sufficiently encouraged to provide them with an encore, a suitably exuberant song by the Victorian composer, John Hatton – Over Hill, Over Dale.
At the end of the concert, we broke up into small groups for some well-deserved drinks and lunch, but met up again in the evening down in the 'cave' for a final get-together at the traditional party. Some people left for home the next day, but Sue and I stayed a little longer to visit the Ethnographic Open-Air Museum of Latvia, a 40-minute bus journey from Riga, on the edge of Lake Jugla. It contains over 100 historical buildings collected from across the country, some dating back to the 17th century, and presents a very realistic view of the way Latvians lived over the centuries.
Not everyone did return home directly, however. One couple had arranged to travel north by coach up to Tallinn, in a second Baltic state, Estonia, whereas Sue and I headed east (by air – not by coach-!) to Moscow and then St Petersburg, before finally returning home a week later. In conclusion, this was yet another well-organised and highly-enjoyable singing trip to a fascinating part of the world that many of us had not previously visited. Very many thanks to Duncan and others who made it all happen.
Written by Tony Gilman.