Read the review of the concert published in Le journal de Saône-et-Loire…
La chorale d'Oxford fait le plein de l'église
Issus de la Summertown Choral Society, les Summertown Singers d'Oxford, sous la direction de son chef de chœur Duncan Saunderson, a fait le plein de l'église Saint-Martin au soir du 27 août. Composé de 25 chanteurs et chanteuses, l'ensemble homogène de voix féminines et masculines s'est révélé pleinement polyphonique. Une première partie consacrée aux chants sacrés puis, une seconde dédiée aux chants profanes, dans un répertoire aussi varié que dense ont été très applaudies par le public venu en nombre.
Ravi, le chœur a accepté un rappel, faisant s'élever une dernière fois ses voix merveilleusement portées par l'excellente acoustique de l'édifice religieux.
M. ESPOUR-DUREUIL (CLP)
Translation courtesy of Simon Jones…
Oxford choir packs the church
The Summertown Singers from Oxford – an ensemble drawn from that city's Summertown Choral Society – filled the church of Saint-Martin on the evening of 27 August, under the baton of their conductor, Duncan Saunderson. Numbering 25 singers, the well-blended mixed-voice ensemble displayed a mastery of polyphony. The first half of the concert was devoted to sacred music, and followed by a second consisting of secular pieces – a repertoire as varied as it was substantial, which drew enthusiastic applause from the capacity crowd
Delighted at this reception, the choir agreed to sing an encore, raising their voices one last time to resound marvelously in the sacred building's superb acoustic.
Click here for an account of the trip from a member of Les Summertown Singers d'Oxford.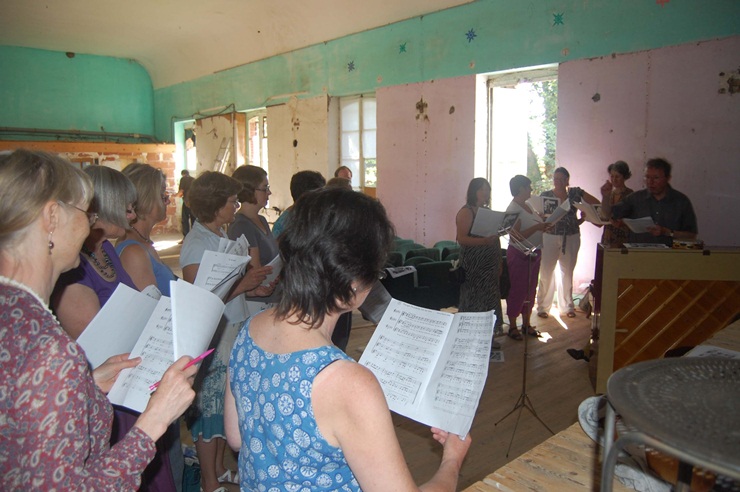 Photos courtesy Ed Todd.